These multimedia samples are from Dr. Goldberg's experience.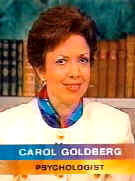 (If video from the Today show does not open when clicking on photo, click here.)
DR. CAROL GOLDBERG
AND COMPANY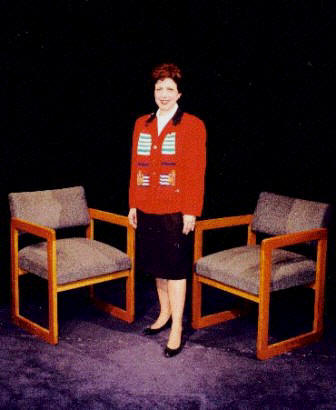 Dr. Carol Goldberg and Company is televised at least weekly throughout Manhattan and Long Island in New York since 2001 and won awards. If you live in these locations: schedule. If you do not have cable TV in these locations, see the following options for watching the program on your computer.
Dr. Carol Goldberg and Company can be seen on computers worldwide: Every Monday at 8 P.M. (U.S. Eastern Time so calculate your time), http://www.mnn.org then on left menu select "Watch MNN Live," 57/85 http, and "Launch External Player."
►If you would rather watch episodes of your choice, any time, on your computer, click here.
Read an interview about Dr. Carol Goldberg and Company
Healthology.com videos with Dr. Goldberg.
After clicking on Healthology.com, select Consumer Health Library Videos then "Workplace Stress" and "Coping with the Holiday Blues."
PowerPoint
PowerPoint presentation for psychologists about expanding independent practice Dr. Goldberg did for the American Psychological Association 2006 Convention. After clicking on this colored font link, download the file to your computer by selecting "save" and a location to save it to, such as your "desktop" or a folder (just as you save other files). Note at this point, you must pick "save" not "open." After saving it on your computer, play the file by double clicking on it and if asked if you want to open it, this is the time to click on "open" (same as you are accustomed to doing with other playable files). The file should unzip automatically, but if it does not unzip and you want to download a free trial version of unzipping software, here is the link www.Winzip.com. You do not need PowerPoint installed because its viewer program is included in the file.
This presentation also shows her use of PowerPoint in a self-play presentation with her narration and automatic slide advancement. Since then, she has developed a more streamlined technique for slides.
Read a sample of Dr. Goldberg's Letters to the Editor that were published in major newspapers (excludes letters that were published on political and other controversial topics). Note these were in reaction to articles that appeared in the newspapers and show a variety of topics.
Social Security and Medicare Cuts
A summary of some of Dr. Goldberg's media work, by venue.
TV and Radio: She has been interviewed on the Today show and other television programs on NBC, Good Morning America and other programs on ABC, CBS, CNN, PBS (Channel 13-NY), CNBC, WPIX/WB, Fox News Channel, News 12 Long Island, America's Talking, NewsTalk, and on radio on CBS, NBC, NPR, KGO, Disney, and SONY. The American Psychological Association selected her to do audio bites for radio stations throughout the United States. She has consulted to producers of television programs. She is Host and Producer of an award-winning weekly TV program, Dr. Carol Goldberg and Company, which has been broadcast at least weekly throughout Manhattan and Long Island in New York since May 1, 2001.
Newspapers: She has appeared in major newspapers, including The New York Times, The Washington Post, USA Today, Investor's Business Daily, Newsday, The New York Post, The Los Angeles Times, San Francisco Chronicle, The Palm Beach Post, The Daily News, The Federal Times, The Toronto Sun, The Journal Constitution, The Oklahoman, The Eagle-Tribune, Physicians Weekly, Physician's Personal Advisory, and news services such as Associated Press and DPA.
Magazines: She has been interviewed in magazines including PC World, Better Homes and Gardens, Redbook, Glamour, Success, Woman's World, Cosmopolitan, Fitness, Self, and Reader's Digest New Choices.
Books: Her advice has been quoted in health books including Healing with Motion; The Doctors Book of Home Remedies for Women; Natural Prescriptions; Natural Remedies; Get Thin, Get Young; The Inner Journey; and in financial publications such as Deloitte's Annual Report on Technology Trends.
Internet: She has been interviewed on news and health websites, such as WebMD and Healthology.com. She has served on web boards for professional organizations.
Her Own Writings: She has written articles in professional publications, including the lead article in the April 2006 issue of Professional Psychology: Research and Practice (an American Psychological Association peer reviewed journal) about her television program. She wrote a regular column in The Internal Audit Advisor. She is writing books on stress management and wellness for the general public.
Feel unprepared to speak to the media and/or getting media interviews?
Dr. Goldberg's workshops related to using multimedia publicity: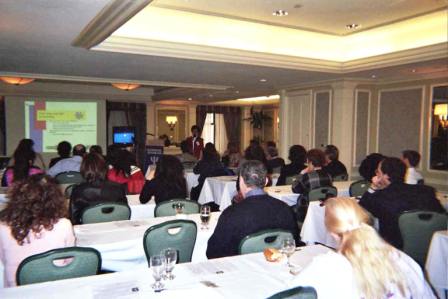 How to Promote Your Work Effectively Through Free Multimedia Publicity
Public Speaking for Professional Success?/i>
PowerPoint Speaking Skills
What You Need to Know about Web Sites
Just for Psychologists: The Business of Psychology
PowerPoint: She also teaches others her own PowerPoint Speaking Skills to make presentations dynamic (instead of dependency upon reading outline and slides, which have become so notorious with PowerPoint that some organizations and businesses unfortunately discourage its use).
Workshop Testimonials - click here
Dr. Goldberg conducted an American Psychological Association Preconvention Workshop on Multimedia Publicity, with public speaking training and mock interview practice, sponsored by American Psychological Association and its Independent Practice Division 42 (four hours solo presenter) on August 16, 2007. Details.
Her Workshop, Your Own Web Site: For Independent Practitioners, at the American Psychological Association Convention was on August 17, 2007.
Dr. Goldberg conducted a workshop, Alchemy for 21st Century Psychologists: What You Must know to Transform Shrinking Income into Gold, at the New York State Psychological Association Convention on May 3, 2008.
Her workshop, How Your Web Site Can Build Your Independent Practice, was presented at the American Psychological Association Convention on August 15, 2008.
Dr. Goldberg can present workshops for your organization too.