For Psychologists - Recent Journal Articles by Dr. Carol Goldberg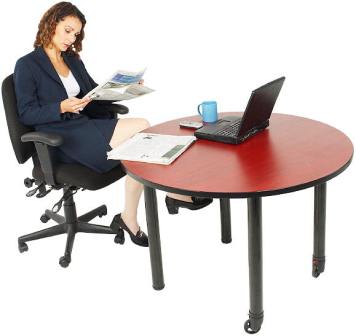 You may want to read the following articles and quotes I wrote, which I hope will stimulate your thinking about psychology, independent practice, and lead to new directions for increasing your income.
"How to Make Psychology a Household Word through Television: A Psychologist's Experience as Host and Producer of a Weekly Program," is the lead article in the April 2006 issue of Professional Psychology: Research and Practice, a peer reviewed journal of the American Psychological Association (Vol. 37, No. 2, 109-113).
I was quoted in the American Psychological Association's Monitor, which goes to more than 155,000 members; November 2005, Volume 36, #10, article "Envisioning Psychology's Future," along with a large photo addressing a standing-room-only audience at the Association's 2005 Annual Convention: "Carol Goldberg, Ph.D., a psychologist in Syosset, N.Y. said psychology needs to get involved in every segment of American life, just as police and fire personnel are. 'We should work in every area that involves people,' she said, 'including in every local program related to homeland security and terrorism prevention, community health, and safety.' "
In my regular column, "Computer Tip for Psychologists" in the New York State Psychological Association's NYSPA Notebook, which goes to more than 3,000 members, the following appeared in the September-October 2005, Vol. XVII (#5) issue:
Want to read NYSPA and APA list messages without them interrupting you, clogging your e-mail, or arriving in Digest batches? Control them by switching from having them delivered to viewing them easily whenever you want 24/7/365 (while on hold on the phone, during a break, between patient appointments, etc.). You have access to archives (searchable by date, subject, author, etc.) and a secondary gain of no viruses.
To arrange for NYSPA's list, go to http://lists.apapractice.org and for APA list, go to http://listserve.apa.org. Go to Subscriber's Corner, click on NYSPA or other list name, miscellaneous, check off "mail delivery disabled temporarily." You can leave it that way permanently.
To view archived messages from NYSPA's list, visit http://lists.apapractice.org. Other APA lists may be found at http://listserve.apa.org. Click Online Mailing List Archives, then select the list you would like to view.
The following article appeared in the Independent Practitioner, Fall 2005, Volume 25, #4, the publication of the American Psychological Association's Division 42, which having the largest Division membership, goes to over 5,500 members.
In Search of An Identity
By Carol Goldberg, Ph.D., ABPP
This is a true story. At a dinner table of a large business organization, I and another woman introduced ourselves as psychologists. The attorney seated between us asked why we are not licensed. I said psychologists are licensed in our state since 1956. Her friend, unlicensed, had a diploma mill doctorate, and getting my reaction, stopped calling herself a psychologist. Overhearing this discussion, a woman across the table said "I'm a colleague of yours.?nbsp; When I asked what she does, she replied, "I'm a psychic.?nbsp; Not only did the others not know the difference, they didn't care.
This story evokes laughter whenever tell it in my workshops and talks. However, I am not telling it as a stand-up comic, but as a psychologist concerned for our profession.
If you ask anyone to identify a physician, attorney, or teacher, they can. In contrast, psychologists are likely to be confused with others (notably pseudo-psychologist Dr. First Names), distortedly viewed (as tabloid talk show violators of respect and confidentiality), or confined to a mental illness role ("shrinks?. We need a unique identity.
I began to think about a unique identity back in graduate school, when unable to comprehend how psychologists could be differentiated from psychiatrists if copying them. I wrote a paper emphasizing our uniqueness, devised the name "therapent?instead of patient, and suggested using our roots in learning, testing, prevention, and people's strengths rather than a medical mental illness model. However, I was too much ahead of the times. Like others, I succumbed to the medicalization of clinical psychology, with its prestige and power, wearing a white coat as hospital Chief Psychologist and medical school professor, referring to clients as "patients,?using DSM diagnoses, and allowing insurance companies into my private practice. The medical model came at too high a cost: junior doctors with second-class citizenship and lesser pay, unwelcome guests on others?turf without privileges or control, managed care, and lack of a unique identity.
I am not suggesting psychologists abandon diagnosing and treating mental illness and obtaining hospital and prescription privileges, but emphasizing the powerful learning and unlearning interventions psychologists do best. Moreover, I propose using a unique broader identity applicable to "normal,?"peak? and innovative applications.
We need a unique sound bite identity, which is easy for the public to understand and remember, broad for a diverse profession, and signifies we have the highest training. Thus, I developed "Psychologists are the people experts?to indicate our expertise in everything relating to people…all types of people, with and without pathology, in all settings. It encompasses everything psychologists do (practice, research, education, and all of APA's Divisions). If it sounds familiar, it is because NYSPA selected it for its Public Service Announcements on television and radio.
This identity can encourage psychologists who hide their profession in order to avoid stigma ("Hi, I'm First Name, your coach) in corporate, online, and other settings to proudly identify themselves as psychologists. In so doing, they promote psychology, distinguish themselves from lesser trained and self-proclaimed consultants, and broaden the concept of what psychologists do. It can make consulting with psychologists about "normal?life changes routine. It can increase work for psychologists with corporations, schools, media, government, transportation, communication, safety, terrorism prevention, computer ease and security, human-machine interactions, health promotion, environmental comfort, finance, laws, online learning…and additional venues. It is an ideal identity for independent practitioners, who want to use their skills in innovative, entrepreneurial work.
I am not just proposing this broader identity, but promoting it by example. Instead of seeing patients, I publicize psychology and its lesser known applications, through hosting and producing a television program, "Dr. Carol Goldberg and Company,?which has aired on Public Access at least weekly throughout Manhattan and Long Island, New York for over four years and won two awards. I developed "Catalyst CoachingSM? through which I help psychologists find innovative applications for their skills. Whether psychologists move to new work or continue with traditional clinical practices or do both, I design web sites to promote their work, through "Web Sites and Sound Bites??nbsp; And I do all of this using psychology skills and identification as a psychologist.
By publicizing psychologists?identity as the experts with everything involving people, we can stretch psychology. Secondary gains are control over our work, freedom from managed care and its low fees, surviving competition from lesser trained lower cost practitioners (ex. New York's four newly licensed master's mental health professionals could bring the state total to 300,000, twice the size of APA), and new types of work. We are only limited by our imagination and determination to show the public why we are the people experts.
Carol Goldberg, Ph.D., ABPP (Clinical), is a member of Division 42. She can be contacted through her web site www.WebSitesandSoundBites.com
The following article appeared in the New York State Psychological Association's NYSPA Notebook, September-October 2005, Vol. XVII (#5)
"Show and Tell?from Vacation: Thoughts about Psychology
By Carol Goldberg, Ph.D., ABPP
While far less exciting than last summer's three weeks in Hawaii (including APA's Convention and cruise), this summer's vacation unexpectedly stimulated thoughts about psychology.
As usual when in the Berkshires, we spent afternoons at art museums, evenings at Tanglewood concerts and theater, and enjoyed chance meetings with psychologists (this time, Dr. Maria Lifrak). However, psychology seemed omnipresent.
It began with a marvelous performance of "Equus?at the Berkshire Theatre Festival. You may recall seeing the Broadway play years ago, as we did, or the movie. For those unfamiliar with "Equus,?it is about a psychiatrist's treatment of a boy, age 17, who has the puzzling presenting problem of brutally blinding six horses he cared about deeply. Without revealing reasons for his act (in case you want to see the VCR movie), the psychiatrist, whose life is empty, becomes envious of his patient's passion and guilty treatment destroyed it.
The theater displayed a timeline of APA. I thought how psychology changed during those years. When I originally saw "Equus,? I was a very young psychologist, fascinated with symbolism, unconscious meanings, unraveling dreams, and viewing the mind through psychoanalysis. Clinical practice was appealing. Psychologists were respected. Evidence based treatment, with observable and patient reported improvements, sufficed without empirical validation. We were in charge of our work without interference from insurance company clerks. We helped people and earned a decent living from it. The contrast made me feel sorry today's new psychologists are unacquainted with the richness of psychodynamics or truly independent practice and glad I switched from clinical practice to designing web sites for psychologists.
Psychology emerged disturbingly at the Massachusetts MOCA (Museum of Contemporary Art). An exhibit by European artist Ann-Sofi Siden incorporated psychoanalytic and drug therapies, using case materials acquired from the daughter of Drs. Fabian, deceased New York City psychiatrists. Concerned that actual Rorschach cards and patient's responses on location charts were displayed, I took photos and sent them to APA's Ethics Director, Dr. Steven Behnke, who will try to stop them. This incident is a reminder to contact him about violations and to arrange for security of records in wills. Another exhibit showed cruelty to animals, including rats in a maze.
Vacation stimulated questioning the emphasis of "science?(rats, drugs, and empirically validated treatment) over "art? (psychodynamics, relationship treatments, and TLC). Wonder what I'll find at the upcoming APA Convention.
The following article appeared in the New York State Psychological Association's NYSPA Notebook, January-Februrary 2005, Vol. XVII (#1)
New Year's Resolutions for Psychologists
By Carol Goldberg, Ph.D., ABPP
It's the time of year to make New Year's Resolutions, except maybe this year, you should really keep them. Why is this year different than all other years?
This year, New York psychologists will face competition from 4 newly licensed master's level mental health professions. Speculation is that there may be as many as 300,000 new practitioners.
Before concluding your long established practice will not be affected, consider the following. Most people do not know the difference between a psychologist and a psychiatrist. I have met people who don't know the difference between a psychologist and a psychic! Four new professions will not add clarity.
Most consumers do not understand longer training makes psychologists better than lesser trained professionals or why they should pay more for better. Even wealthy people, who can afford to self-pay, choose to use insurance coverage and took advantage of pro bono services offered after 9/11, even if of lesser quality.
On the professional side, those who spend less time and money for training can afford to charge less. Managed care fees, already in the basement, will plummet further as they gravitate to new cheaper licensees.
I'll make another prediction. Economics will drive in-person therapy online, the briefer the better. Physicians already are being encouraged by and paid by managed care companies to e-mail patients instead of seeing them about non-emergency issues. Patients are being enticed by avoiding travel and hours in a waiting room. I think this trend will make psychotherapy move online because psychotherapy does not require special equipment, is not considered an emergency like chest pains, and some patients wants anonymity. Furthermore, it is easier to document the cost-effectiveness of narrow empirically validated treatment (this is not broader evidence based treatment) than for relationship therapies. (Please don't blame the messenger. I don't approve of this any more than you do.)
A good way to cope with these dire predictions is to make and keep New Year's Resolutions. I recommend put them in writing, with operational terms, specific dates to accomplish each sub-goal, and outcome assessment plans.
Make a resolution to overcome negative attitudes about business and look at your work as a business.
If you think doing business and doing good are incompatible, think again. You can make money by solving people's problems. There is nothing wrong with conducting business as long as it is ethically done.
Using business perspectives, look at how many patients you need to cover your overhead and support responsibilities, how they get to you, and whether you are better off with or without managed care. Do marketing research about current and future markets, including your competition. Decide whether you should continue as is, move to a niche, do additional types of work, or switch to new work. If seeking advice, be sure your consultant is familiar with psychology and keeps your information confidential.
Make a resolution to implement your decisions, including specific work you will do and how you will acquire new skills if needed.
There are numerous entrepreneurial opportunities that do not require a job application or an exclusive full-time commitment. You can consult to corporations, coach individuals, conduct workshops in person and/or online, write books, produce videotapes, and do speaking. Such revenue streams are not just for money, but can bring creative satisfaction and control over your work, while providing meaningful help to people.
Additional training does not have to be formidable. NYSPA, APA, and other organizations offer workshops, home study, and online courses. Books, journals, and newspaper articles may provide what you need. Other sources include supervision, being mentored, peer supervision, and teaming with colleagues who have different skills. Don't limit yourself to psychology. A few business courses or public speaking training can help. Look beyond formal courses to networking events, meetings in other fields, community activities, and learning from friends and relatives who are in business.
?span style="font:7.0pt "Times New Roman""> Make a resolution to publicize your work and include specific methods.
Regardless whether you decide to continue with the same work, develop a niche, add new work, or change your work altogether, your work needs publicity.
Possibilities include paid ads, but they can be prohibitively expensive for psychologists. Ads can be made more affordable by just listing your web site, where people can find abundant information.
The public's enthusiasm for psychology translates into free publicity through television, radio, print interviews, and speaking at organizations seeking programs for their meetings. Media opportunities can be found through Public Education Committees and by getting known through writing books and articles and speaking. Having your own web site not only enables journalists and producers to find you and realize your value, but to get essential background information about you for their articles and broadcasts.
A web site is the most cost-effective medium. You get essentially unlimited space. It is available 24/7/365. Unlike brochures, which require storage space and are stale as soon as their ink dries, a web site takes no storage space, can be updated instantly and continuously, and grows with you and your work.
Make a resolution to harness NYSPA's new initiatives to jump start promoting your work.
This year is also different than other years for NYSPA members.
NYSPA produced Public Service Announcements to brand and promote psychology, which are ready for broadcast during 2005. It is an ideal time to publicize your work while public attention is focused on psychology.
Starting January 2005, NYSPA's Referral Service is expanding to an online directory for consumers. NYSPA continues its online Members Directory. To stand out from the crowd in these directories, you have to show why you are outstanding, not just provide your name and location. Recognizing the need for people to find lots of information about you through your own web site, these directories contain members?web site addresses. It is the perfect time to get your own web site.
Additional tips on www.WebSitesandSoundBites.com.
Best wishes for a happy and successful 2005!
The following article appeared in the Nassau County Psychologist, Winter 2005, Vol. 32 (#1).
How to Increase Your Income
By Carol Goldberg, Ph.D., ABPP
Don't read this article unless you want to make more money. This is not just for clinicians in independent practice, who are suffering from managed care bargain basement fees that are still decreasing and from predictions of competition from as many as 300,000 in four newly licensed master's level mental health professions in New York in 2005. It is also for school psychologists, academics, authors, researchers, and any psychologist who wants to earn more from entrepreneurial work.
This article is especially for psychologists who do not realize they are in business or if they do, feel guilty about it. Whether you are a full-time or part-time independent practitioner, consultant, author of books, speaker, workshop presenter, producer of videotapes, and/or producer of online learning, you are organizing and running a business, which is the definition of an entrepreneur. There is nothing wrong with conducting business as long as it is ethically done. There is nothing incompatible about doing business and doing good deeds. In fact, I can't imagine a more idealistic way of making a living than by helping people.
If you are like most psychologists, your curriculum did not contain business skills. It also did not teach how to dress professionally, decorate an office, develop cards and stationery, or other skills needed to be an entrepreneur. Grad school did not teach how to market your books, which publishers now require authors to do.
Fortunately, you were taught to look at data systematically, state goals and objectives, analyze data, and document details in writing. You can learn to adapt these skills to look at your work as a business: do marketing research about current and future markets and your competition; define your work, including niches; write a formal business plan, including a provision for outcome assessments; publicize your work; and after assessing outcomes, revise and fine-tune. I prefer to teach most of these business skills in a workshop format, with supervised practice, so this article will focus on one essential aspect of business, promoting your work.
Regardless what entrepreneurial work you do, you have to let people know about it. They will not beat a path to your door, without knowing where you door is, why they should go there, and why your services or products are worth their cost.
Word-of-mouth recommendations and networking can be effective, but are limited to those who know you and know people who need what you provide. Potential clients are likely to want information about you, including details the recommender may not have.
Brochures contain substantial information, but are static and stale as soon as their ink dries. They require storage space. To get them to potential clients and book readers, they must be carried or mailed (with postage costs). By the time they are received, potential clients may have gone to your competition.
Direct mail used to be considered good if it had a 2% response rate. Now that people are inundated with unsolicited spam e-mail that they filter out and snail mail they discard unread, the response rate for direct mail is even less.
Directories, as the word implies, direct people to your door. However, they do not provide enough information about why people should use your services or read your books or show why you stand out from the competition.
Paid ads are a mainstay, although as with direct mail, people may be so inundated that they tune them out. Ads can be prohibitively expensive for psychologists.
It is essential to convey abundant information cost-effectively. To decide that you are the expert they need, it is important to see your credentials and experience; samples of your advice and if books, read excerpts and reviews; and your special qualities that convey comfort, trust, and rapport. Your own web site does that uniquely well. Furthermore, a web site enables directories, cards, and ads to save space by listing its address where people find a tremendous amount of information about you and your work.
A web site is the most cost-effective medium. It provides essentially unlimited space. Whenever people want information, it is available 24/7/365. A web site takes no storage space at all, can be updated instantly and continuously, and grows with you and your work.
Search engines can find you and bring potential clients, book readers, and others to your web site. Journalists and producers can locate you, realize your value, and obtain essential background information about you for their articles and broadcasts. Since they work on tight schedules, they like being able to access your site in their own time, any day, any hour. You can obtain free publicity through television, radio, print interviews, and invitations to be a speaker at organizations seeking programs for their meetings. Your web site also enables broadcast and print audiences to find out more about you after interviews. Having your own web site demonstrates you are up-to-date, in professional knowledge too. A web site can sell your books and tapes directly.
Those who are NYSPA members will have the opportunity for inclusion of their own web site addresses in a new online Referral Service Directory for consumers starting January 1, 2005, as well as in the online Members Directory. It is an ideal time to get your own web site.
I'm enthusiastic about web sites because I've seen their effectiveness for me and colleagues. I learned the hard way, after a basement stash of stale brochures, meeting people who told me they had thrown out my direct mail unopened, and paid ads that were not even noticed. In contrast, new clients, journalists, producers, and other business contacts find us on the web. I am sharing our experience because having a web site increased our income and I think it will increase your income too.
Isn't it time to get your own web site or revise an ineffective one?