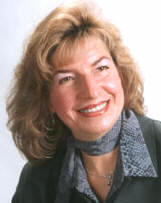 I have meant to tell you how happy I am with all your hard work in
developing this web site. You were a pleasure to work with, entirely
professional and exceptionally helpful. I have received fabulous
feedback and many inquiries about who did the web site. I have passed
your name along to them.
(A year later) I've received a lot of compliments on the web site!!
(After that) Thank you for the careful and thoughtful way in which you updated and improved my web site to highlight all of the new and interesting things that I am doing in my career. As usual, Carol in your inimitable way, you did great.

(2 years later) You are the most conscientious person!! I continue to get very good feedback on it and have even gotten referrals from people who shop using the Internet.
(3 years later) I continue to refer friends to you because they should have a web site and as I tell them, you are simply the best.
(Five years later) Thanks again for your timely response to my inquiry. You are the best. You did a fantastic job on my web site.